Semper Fidelis: A Photographic Project
Every Marine has a story to tell, a set of compelling experiences to share, before, during and after their military service. The portraits in this project capture the proud, "always faithful" spirit of these men and women and the honor they have brought to their country. The images and words illuminate faces and lives across generations, revealing the character and strength of those who have served around the world. Each portrait contains a glimpse of war, a reason for joining this fabled fraternity, and a reveal of life today, beyond the conflicts that shaped them. As civilians, they have distinguished themselves as artists and teachers, mechanics and salesmen, healthcare workers and videographers. The gallery shows how they remain linked to an immortal brotherhood – the United States Marine Corp. The project has evolved into several exhibitions and eventually a book.
World War II Veterans: A Photographic Project
The Greatest Generation led the U.S. to victory in World War II. More than 16 million American served in the conflict. According to the U.S. Veterans Administration, fewer than 700,000 remain. Approximately 430 are dying each day, almost one every three minutes. It is estimated there will be no veterans left to recount their experiences by 2036. As a result, this project will preserve important stories and memories from World War II.
The men and women who served in this conflict did not view themselves as heroes. As Lt. Col. Dick Cole, Jimmy Doolittle's co-pilot, once explained, "We were just doing our jobs." Humility is a defining trait of WW II veterans. Courage and resiliency are two others. In this project, I honor veterans with revealing snapshots of their lives. Each is photographed in a contemporary setting to show how they look today, decades removed from their service in one of history's greatest conflicts.
The Exhibit
Each participating Marine will be photographed and interviewed in their home. The final image is 13×18 framed to 18×24, accompanied with an 8.5×11 bio sheet on each Marine featuring the highlights the interview and a small photo from their active duty days. The project will result in a museum and gallery exhibition and book. Recently a small show of nine Marine photos and bio sheets was held at the A Smith Photographic Gallery in Johnson City, Texas. Clarke gave two well received, artist's talks on the projects formulation and the uniqueness of the Marine Corp experience. As a thank you, each participant is given a 7×11 photo framed to 14×17 from the photo session.
D. Clarke Evans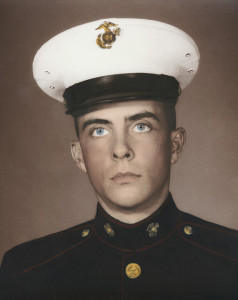 Clarke is a graduate of Brooks Institute of Photography, served six years in the Marine Corps Reserve from 1964-1970 and was honorably discharged as a Sergeant. He also has a Master of Arts degree in Museum Science. Recently, he resigned as a photographer for the NBA as the team photographer for the San Antonio Spurs, a position he has held since 1987. He resigned to devote all his time to the two personal projects. He is also the recent Past President of the Texas Photographic Society (TPS),  www.texasphoto.org, a non-profit organization devoted to fine art photography. Under his leadership, TPS sponsored 54 exhibitions that were shown in 21 Texas cities, New York, Florida and California. Through sister organizations in Europe, TPS exhibited Texas artists in France, Italy, Germany, and Greece. The Board of Directors honored him with the title of President Emeritus. With his many contacts in the museum and gallery field, Clarke will be able to secure exhibitions of the work.